"Those of us who have been to Lourdes have experienced something that draws us back," says Fr Damian O'Mahony, Co-PP Glounthaune who is one of the Lourdes pilgrimage coordinators in the Diocese of Cork and Ross
He was speaking to people who attended meetings in recent days to find out about this year's pilgrimage to Lourdes.
The first Cork and Ross pilgrimage to Lourdes since before Covid will be led by Bishop Fintan Gavin in September. It involves a five-night stay in Lourdes where assisted pilgrims are accommodated in a hospital-like environment but with prefessional medical, nursing and support care provided by people from home. Most other pilgrims stay in hotels in the town of Lourdes within walking distance of the Grotto area.
Daily liturgies are planned by the diocese and these always include a special Mass celebrated at the Grotto where Our Lady appeared. Pilgrims also participate in the daily processions.
"Over the years, I have met some great friends on the pilgrimage, from among the assisted pilgrims and all the helpers," said David Sheehy, who has been to Lourdes as a helper nine times. It began when he was asked by his brother-in-law Pat Fitzgerald if he'd go and help.
"It's a great life experience which has shaped my passion for wanting to help others and care for others," said Andrea Sheehy, who went to Lourdes as a young adult helper. She credits her time in Lourdes with inspiring her to work in childcare and to do a masters degree in special education.
Being a volunteer young adult helper on the pilgrimage was also a life-changing experience for Grace Dineen, she says.
"The days are fairly full and we work flat-out helping. But the day flies and there's also time for some great craic and social time, too."
Speaking at the launch, Bishop Fintan said an invitation is open to all who want to come.
"We will especially welcome people who have never been before, both assisted pilgrims, helpers and pilgrims from across the diocese," he said.
Parishes are also invited to organise local groups or a group from a family of parishes who will travel as part of the diocesan pilgrimage.
The Cork & Ross Diocesan Pilgrimage to Lourdes takes place from the 22nd to the 27th September 2023.
The flights are direct from Cork to Lourdes.
Bookings are open now at Joe Walsh Tours here
The diocesan coordinators of the pilgrimage can be contacted at This email address is being protected from spambots. You need JavaScript enabled to view it. or phone (085) 2525040.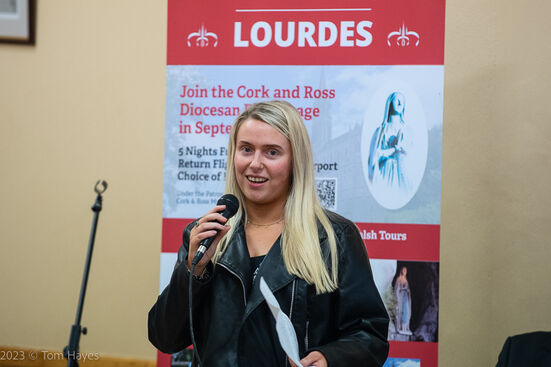 "It's a great life experience which has shaped my passion for wanting to help others and care for others" (Andrea Sheehy)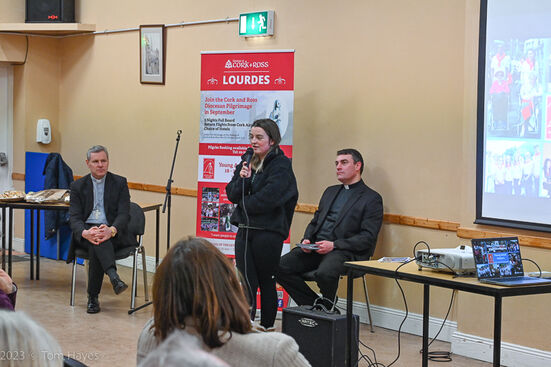 "The days are fairly full and we work flat-out helping. But the day flies and there's also time for some great craic and social time, too." (Grace Dineen)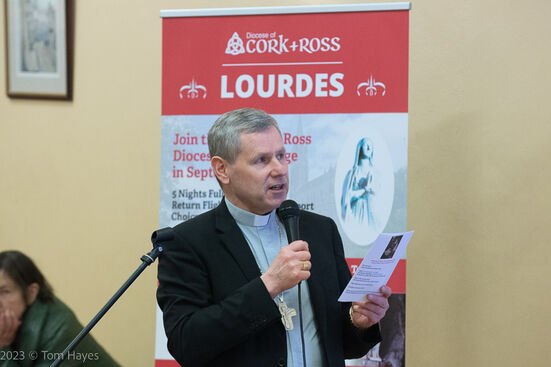 "We will especially welcome people who have never been before, both assisted pilgrims, helpers and pilgrims from across the diocese" (Bishop FIntan)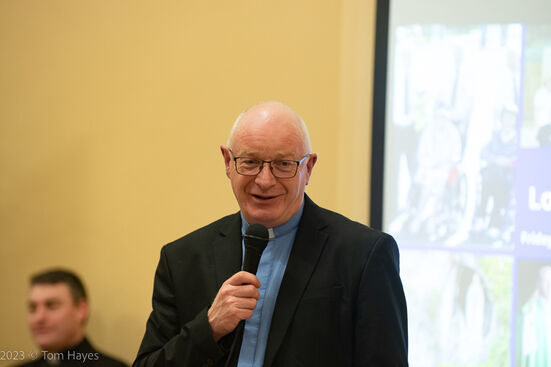 Fr Charlie Keily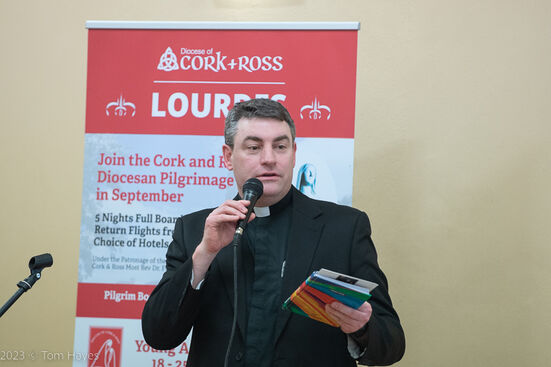 Fr Marius O'Reilly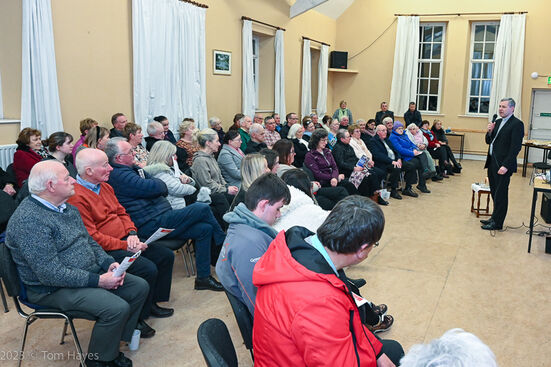 Information Evening about the Diocesan Pilgrimage to Lourdes in the Parish Centre, Clonakilty