A Polish-English Charismatic Forum took place at St. Joseph's Church in Glanmire parish on 28th - 30th April
The forum was organised by the Community of the Risen Christ, GALILEA, which operates on a daily basis at the Polish Chaplaincy in Cork.
Father Jozef Witko OFM and Marcin Zielinski were special guests.
Fr Jozef Witko is a Franciscan from the Province of Our Lady of the Angels in Krakow, a charismatic priest, preacher and retreat leader. He is well known both in Poland and abroad. He is also an author of many books on God as well as the power and work of the Holy Spirit.
Marcin Zielinski is a Polish evangelist, charismatic and author of many books on Christianity. He is often invited as a speaker to charismatic forums, conferences, retreats and healing prayer sessions.
During the Charismatic Forum in Glanmire special guests gave talks, led worship, prayer workshops and Masses with prayer for healing. The faithful also had the opportunity to benefit from the Sacrament of Penance.
On Saturday, the participants of the Forum, together with the parishioners of Glanmire, participated in a Polish-Irish Mass, during which Father Jozef Witko OFM preached and the faithful received the Sacrament of the Sick. The Mass was presided over by Fr. Pat Nugent CC.
On Sunday, the Poles and the Irish participated in the Eucharist led by Fr. Pat Fogarty Co-PP.
It was a beautiful time of building the community of Christ and experiencing the living Church. The Polish community would like to give special thanks to Fr. Pat Fogarty for providing the venue for this event, and for his support and help with the organisation.
Organisers say that the cooperation between the Polish Chaplaincy and the parish in Glanmire, will be a strengthening of faith for many of the faithful, and will bear fruit to bring together both Polish and Irish believers in our diocese.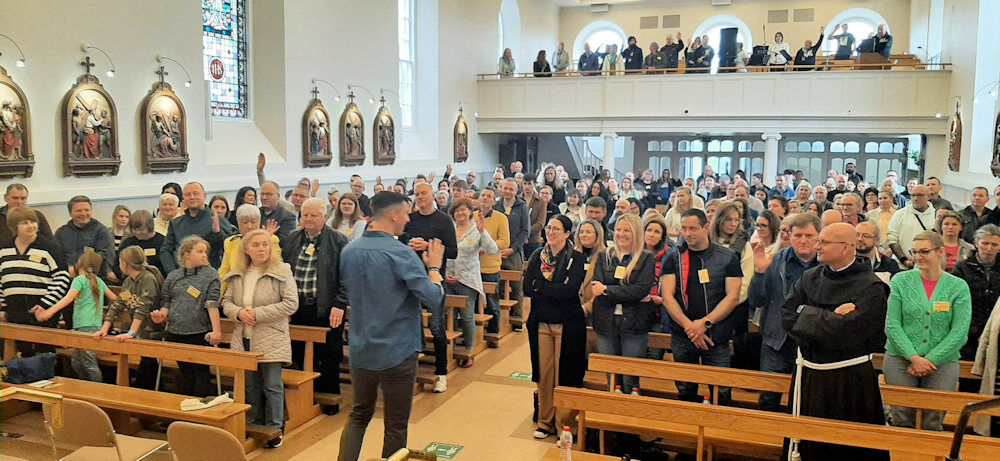 Polish-Irish Mass, during which Father Jozef Witko OFM preached and the faithful received the Sacrament of the Sick