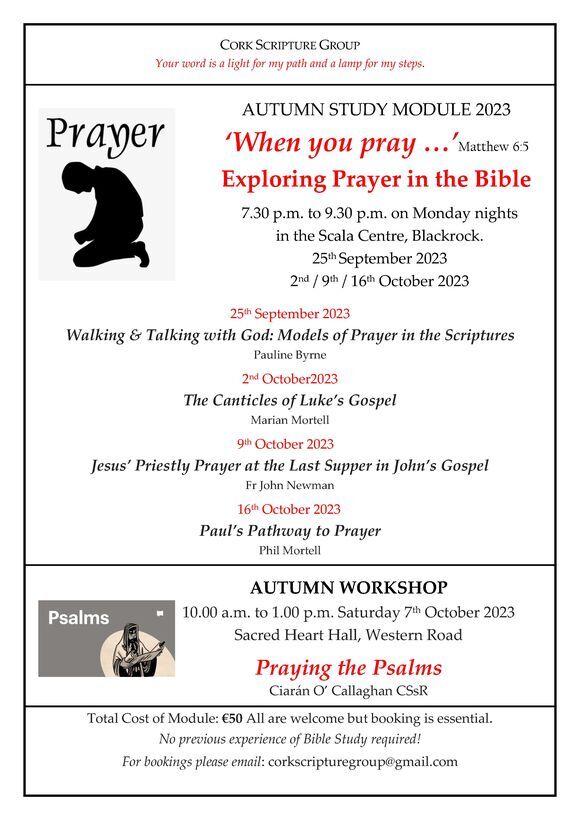 Cork Scripture Group was established in 2010 by a voluntary group who wanted to share their love of the Sacred Scriptures and help others in our community to grow in their appreciation and understanding of the Word of God
Participants are usually drawn from the greater Cork area.
Each year CSG hosts Bible Study Programs on different aspects of biblical literature. These are run on a modular basis each spring and autumn, with each module typically consisting of four evening presentations, one evening a week, by local presenters. Each spring and autumn CSG hosts a half-day Bible Workshop to which CSG invites a nationally recognized scripture scholar to speak on a particular aspect of our Sacred Scriptures. Everyone is welcome and no previous experience of Bible study is needed. Cost of all courses is kept to a minimum.

In addition to these structured programs Cork Scripture Group also seeks to support individuals and groups in Cork who are involved in or interested in Bible Study and is available to help local communities run parish-based programs such as 'Unfolding the Word.'
This year's autumn module is entitled "When you pray . . ." Exploring Prayer in the Bible and will run from the last Monday in September until the third Monday in October. The Workshop on Praying the Psalms will be presented by Ciaran O'Callaghan CSsR.