He served in Scotland for five years after ordination and he was one of the first Cork priests to volunteer for the Mission to Peru established by the late Bishop Cornelius Lucey. Fr. Tim served in Peru from 1962 to 1968 and again from 1971 to 1973.
In the 1990s, when young Irish people were emigrating by the thousands to the USA, the US bishops asked the Irish bishops for help to minister to their needs. Fr. Tim headed off to Boston in 1991 – having just completely rebuilt the parish church at Schull – and became the founder of a network of support centres for young Irish emigrants. By the time he returned to Ireland in 2001, there were fully staffed centres in Boston, New York, Florida, San Francisco, Chicago and almost everywhere a young Irish emigrant was to be found.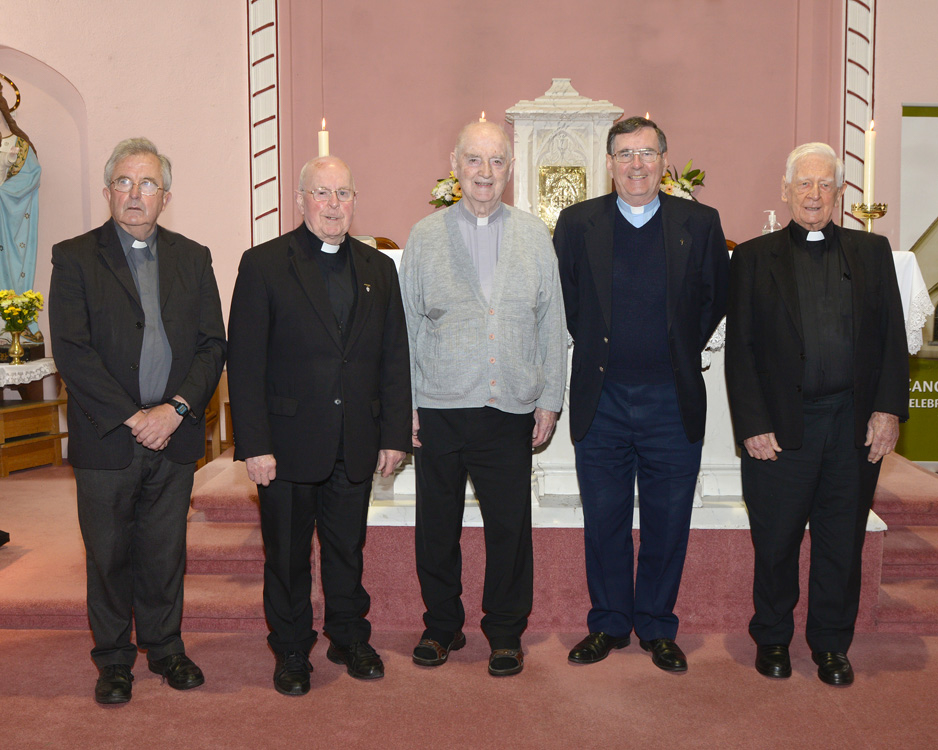 At the Paltinum Jubilee Mass for Fr. Tim O'Sullivan at Canovee Church were Fr Liam O hIcí,Ovens; Mons Kevin O'Callaghan, AP Ovens and Kilmurry; Fr Tim; Fr Bernard Donovan PP Kilmurry and Fr. Richard Augustine Wall SMA who is also a Kilmurry native. (Pic Peter Scanlan)
After serving his native area from 2001 to 2009 as Parish Priest and Assistant of Kilmurry, Fr Tim continued to live locally and minister locally. Cuain Mhuire in Farnanes became Fr. Tim's new home when he transitioned from parish life in 2009 and he has recently moved to live at the Bon Secours Care Village in Mount Desert.