Bishop Fintan recently visited Nano Nagle College Farranree (formerly North Presentation Secondary School)
Under the patronage of the CEIST Schools Trust, Nano Nagle College is the most recent Post Primary school in the Diocese to effect a change in status to a Co-Educational College. The school welcomed boys as students for the first-time last September.
Bishop Fintan received a warm welcome from members of the Student's Council on arrival as well as from School Principal Mr. Adrian Gibbs and Deputy Principal Ms. Sarah Curtin.
The school community assembled in the Library for a short prayer service before being addressed by Bishop Fintan. Sr. Ena from the Presentation Sisters Community in Farranree was also present for the occasion.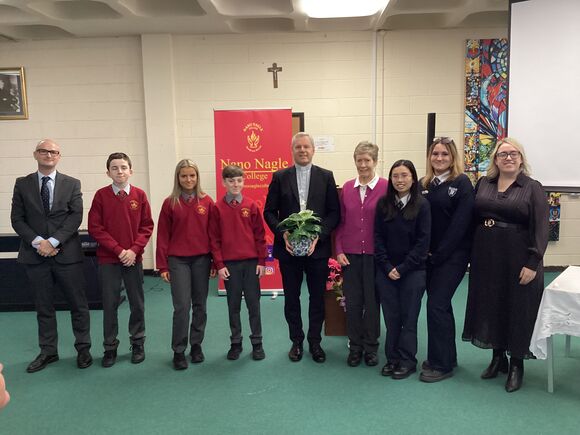 Bishop Fintan is welcomed by representatives of Nano Nagle College Student Council, Mr. Adrian Gibbs (Principal), Sarah Curtin (Deputy Principal) and Sr. Ena (Presentation Sisters)
Bishop Fintan's message to students was based on his experience with 40 young people from the Diocese who attended World Youth Day in Lisbon last August with Pope Francis. He urged students to let their light shine, to listen to God's voice present in their lives and not to be afraid and realise that God loves every one of us.
A short tour of various existing and planned facilities in the school was followed by a visit to the staffroom where the Bishop interacted with staff and shared in some light refreshments.
Bishop Fintan's visit was a wonderful occasion for all as Nano Nagle College embarks on its new and exciting venture as a co-educational school.