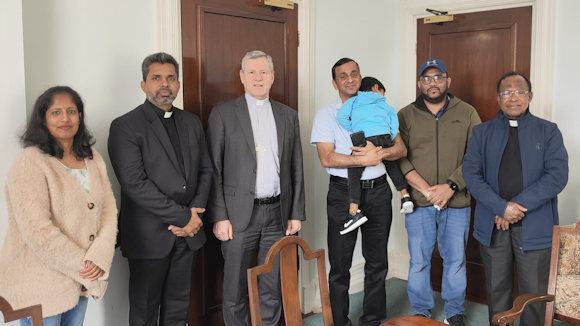 Fr. Shinu Varghese (second left), Fr. Cherian Thazhamon (on the right from Dublin) with members of the Syro Malankara Community, Sini, Shijin and Anish being welcomed by Bishop Fintan
Recently, Bishop Fintan welcomed Fr. Shinu Varghese to the Diocese of Cork and Ross
Fr. Varghese is from Kerala in India.
Bishop Fintan said that he was delighted to welcome Fr. Varghese to the Diocese to serve in parish ministry while at the same time allowing him time to look after the pastoral needs of the Syro-Malankara Catholics in Cork and Ross.
Fr. Varghese will initially assist in the parishes of The Cathedral and Blackpool/The Glen/Ballyvolane until the summer after which he will take up a parish appointment as part of the summer priests appointments.
Bishop Fintan said how the Syro-Malankara Community with Fr. Varghese will enrich the Diocese of Cork and Ross. He also spoke of the importance of the Syro-Malankara Rite retaining its identity as one of the Eastern Rites within the Diocese.