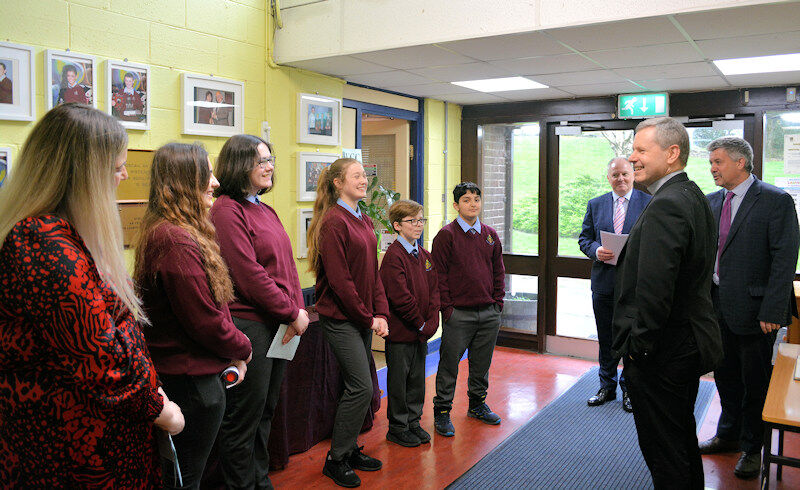 Bishop Fintan is welcomed by members of the Student Council in Mayfield Community School and School Principal, Mr. Kieran Golden
On Friday March 24th Bishop Fintan made a pastoral visit to Mayfield Community School
He was warmly greeted on arrival by Kieran Golden (principal), Ms. Kathleen Daly (deputy principal), representatives of the Student Council, Parents' Association and School Board of Management.
Bishop Fintan was then invited to join a school assembly for a Prayer Service followed by an interactive dialogue with students.
In his words of welcome, Mr. Golden said that in 2023 the school was celebrating its 50th Anniversary as a school within the Mayfield community. He said that Bishop Fintan's visit provides an opportunity to celebrate and to recognise the role of the Bishop of Cork & Ross as co-trustee of the school.
He went on to state that provision of Religious Education, religious worship and the work of the Chaplain all combine to reflect the founding intention of Mayfield Community School.
In his own words, Bishop Fintan invited students to allow Christ into their lives and to develop a special relationship with him through their practice of daily prayer. He quoted the words of St. Catherine of Sienna: "Be who God meant you to be and you will set the world on Fire", while encouraging students to believe that they are loved by God and that he has a plan and purpose for each of their lives. In coming to know Christ, Bishop Fintan assured students that they would have a friend for life.
A Leaving Cert. student addressed the Assembly and spoke of the enormously positive impact which Mayfield Community School has had on his life throughout his years there.
Bishop Fintan was presented with a gift of a student handcrafted wooden holder and candle to commemorate his visit. He thanked the students for their thoughtful gift and assured the assembly that he would remember the Mayfield School community in prayer. An interactive Q&A session followed where students engaged enthusiastically with Bishop Fintan about aspects of his life as Bishop of Cork & Ross including his meeting with Pope Francis.
Bishop Fintan was then taken on a tour of some of the school facilities including the "Homeroom" of students in the ASD unit. He was very warmly greeted by students attending that facility before being ushered to a picnic bench which was specially constructed by students and had a commemorative plaque attached in honor of the Bishop's visit to their school.
An informal meeting with the Religious Education teachers also provided opportunity to meet with staff. The Bishop also visited the recently upgraded and refurbished Prayer Room before concluding his engagements at the school.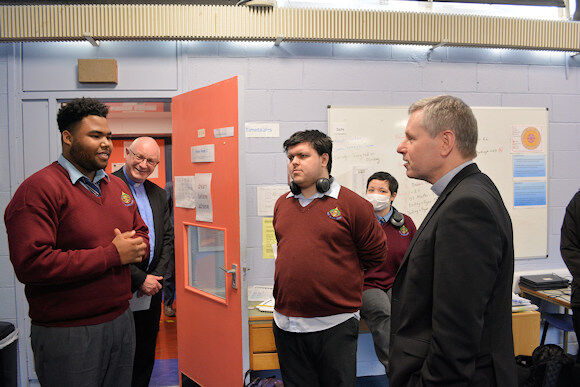 Students welcome Bishop Fintan to Mayfield Community School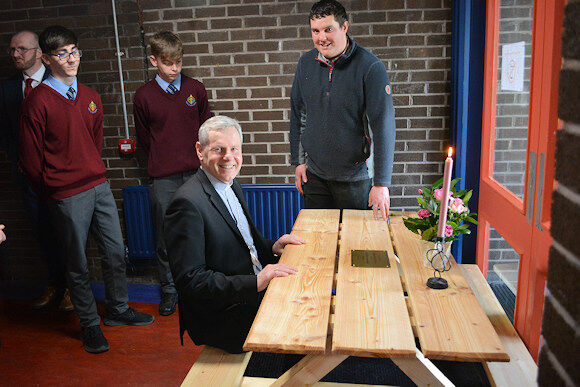 Bench to mark Bishop Fintan's visit as co-trustee of Mayfield Community School