On Friday 12th May, Bishop Fintan celebrated Mass at Bon Secours Hospital, Cork, marking International Nurse Day and also 100 years of the School of Nursing at the hospital
Nurse Education at Bon Secours Cork began in 1923 with Sr. Mary Engelberth as the school's first tutor.
Today, BSHC plays an important role in Nurse Education through its clinical partnership with UCC and the Catherine McAuley School of Nursing and Midwifery.
---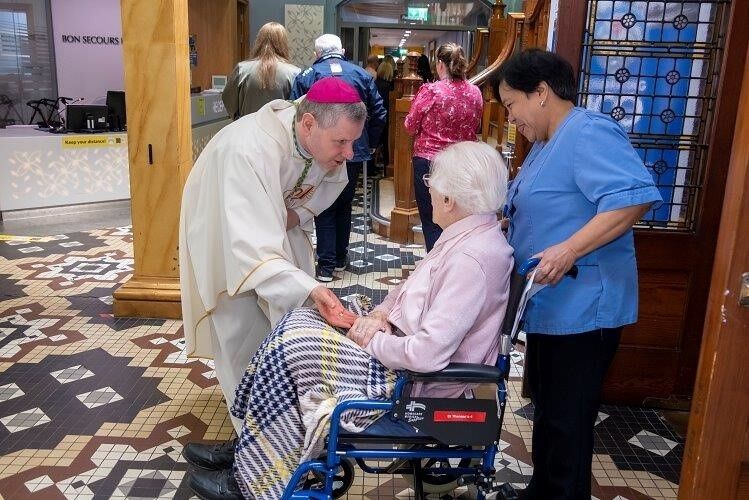 Bishop Fintan Gavin, Sr John and Staff Nurse Nora Espartero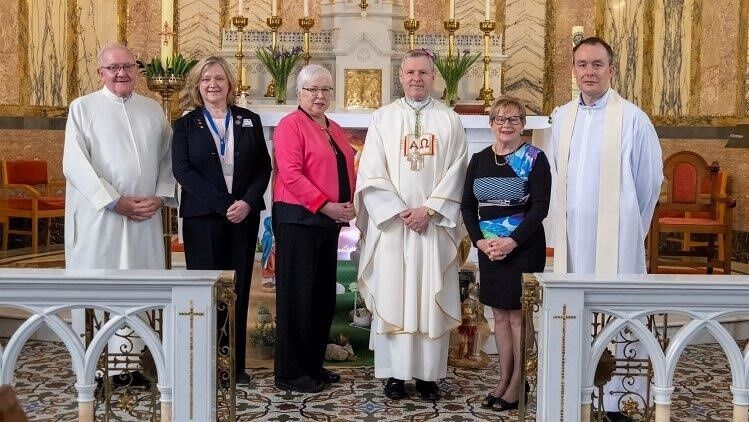 Fr Jack Twomey OFM. Cap, Dr Mary Forde, ADON, Margaret McHugh (Group Director of Nursing), Bishop Fintan Gavin, Ber Mulcahy (Director of Nursing) Fr Dwayne Gavin
In his homily addressed to a congregation of over 32 different nationalities, Bishop Fintan said that "hospitals are places of anxious waiting, of uncertainty and fear and of the constant realisation that we too are frail, indeed that we too, as well as those we love and care for, are mere mortals on a journey of life here on earth, that will one day come to an end. And yet, in the midst of all the human brokenness, frailty, vulnerability, and uncertainty, hospitals are places of heroic human dedication, kindness and compassion too. Because in the ordinary encounters of everyday life in the hospital, suffering is eased, fears are allayed and wounds are healed. Not just through the skills and expertise of our staff, but perhaps even more importantly, when a kind word of reassurance is uttered, where a moment or two is taken to listen to and acknowledge another person's story, and where the smallest act of kindness brightens up, even for just one moment, the darkest of hours on another's journey of illness.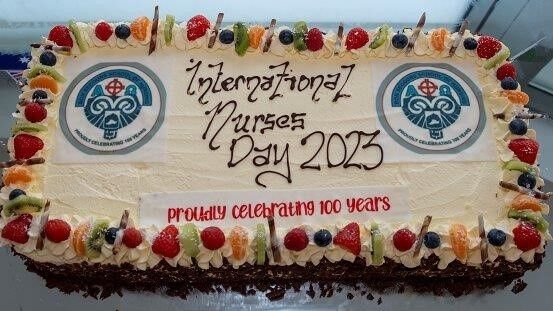 Centenary Cake