Since July 2022 when he was appointed as Diocesan Coordinator for Post Primary Schools, Paul Kelly has visited over half of the 48 post primary schools throughout Cork and Ross.
In his role as Diocesan Coordinator for Post Primary Schools, Paul attends to the Bishop's responsibilities and obligations in community schools and designated community colleges and provides support and encouragement to faith communities in each school setting through fostering faith development, leadership and faith formation initiatives.
Paul has also arranged many successful pastoral visits to post primary schools for Bishop Fintan during the last academic year. Paul will be engaging with all post primary schools in Cork and Ross throughout the coming school year.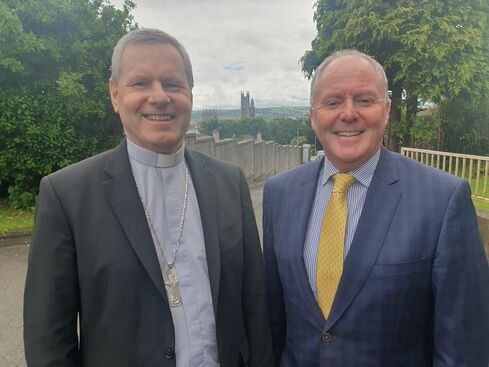 Bishop Fintan and Paul Kelly Diocesan Coordinator for Post Primary Schools
Paul Kelly - Biography
Paul graduated with a Baccalaureate in Theology and Arts from the Pontifical University, Maynooth in 1985 and a H.Dip in Ed.(Hons) from NUI Maynooth in 1986. He began his career in Midleton CBS Secondary School in 1986 as a teacher of Religion, History, English and Geography.
He graduated with a Masters Degree in Education (M.Ed) from UCC in 1996. He became Co-ordinator of the Leaving Cert Applied programme before being appointed Deputy Principal of Midleton CBS in 2002. He was appointed Acting Principal during 2011-12 and successfully led the school through a WSE-MLL (2012).
For over 20 years Paul has played a key senior management role in the development, restructure and expansion of Midleton CBS to provide for an ever-increasing student population to over 950 pupils. This included a comprehensive school refurbishment and extension project incorporating ASD provision, which was completed in 2016.