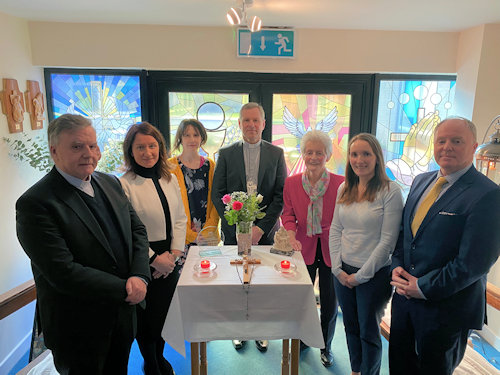 Bishop Fintan blesses new School Prayer Room
Incl, Fr. Noel O'Sullivan Turners Cross
Ms. Richel Long School Principal
Deputy Principals Francis Kerrigan & Dr. Caroline O'Sullivan Ryan
Sr. Mary Dineen PBVM
Mr. Paul Kelly Diocesan Co-ordinator for Post Primary Schools
On Thursday 26th January, during Catholic Schools Week, Bishop Fintan visited Christ King Secondary School, Turners Cross
In the course of his pastoral visit, he met with students and staff and blessed the recently opened Prayer Room at the school.
On arrival Bishop Fintan was greeted by student representatives from every year group and members of the Student Council. He was welcomed Ms. Richel Long Principal, Deputy Principals Francis Kerrigan and Dr. Caroline O'Sullivan Ryan as well as Head Girl, Kate Ahern and Deputy Head Girls Izabel Gough and Tara Lyons. He was then invited to join an assembly of Junior School students. Also present for the occasion was special guest, Sr. Mary Dineen PBVM.
During his address, Bishop Fintan urged the students to live out their faith in unison with the theme of Catholic Schools Week -'Walking Together in Faith and Love'. He encouraged them not be afraid to step away from the crowd, to have courage and to believe in themselves. He suggested that students should embrace all the various educational opportunities the school provides and to enjoy the experience of being at the school. Concluding, Bishop Fintan asked students to allow Christ to develop a special relationship with them through their practice of daily prayer and reflection with him. He encouraged the students to believe in God's love for each individual and to come to know Christ in a personal way. In doing so, he assured them that they would have a friend for life. His words were followed by a Prayer Service and an interactive Q&A session in which Bishop Fintan shared some of his personal journey of life as a student, as a Priest, as a teacher and as Bishop of Cork & Ross.
Bishop Fintan then visited the newly opened Prayer Room in the school. Following a student-led prayer and reflection service, Bishop Fintan said a prayer of dedication before blessing the prayer room. He was joined in this by Rev. Noel O'Sullivan Adm. of Turners Cross Parish.
After meeting school staff, Bishop Fintan addressed an assembly of the Senior School comprising of Transition Year, 5th Years and Leaving Cert Students.
To conclude the visit, Ms. Long the Principal thanked Bishop Fintan for providing the opportunity for his visit to the school and for his message of faith and encouragement to the student body during Catholic Schools week. She assured him of the commitment of the school to its Catholic identity as a member of the CEIST Trust as well as to its ethos and traditions.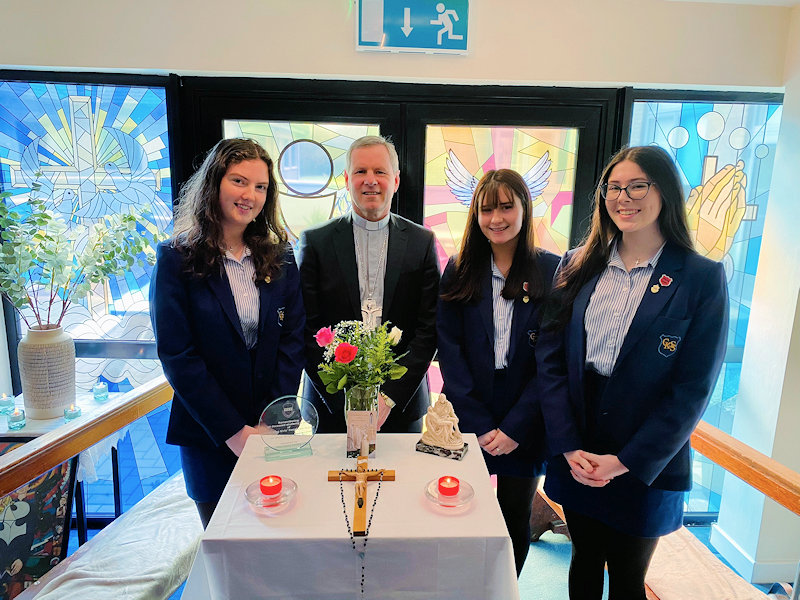 Bishop Fintan with students in new School Prayer Room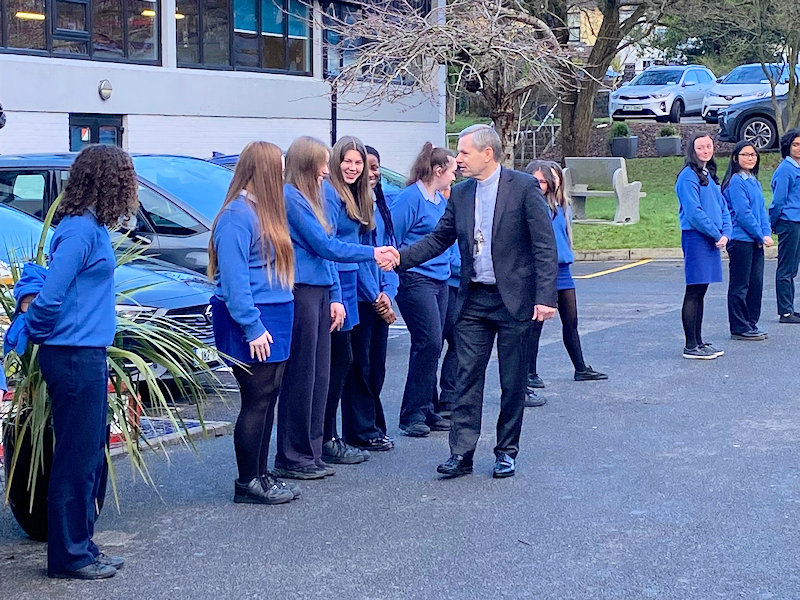 Bishop Fintan is greeted by student representatives on arrival at Christ the King Secondary School