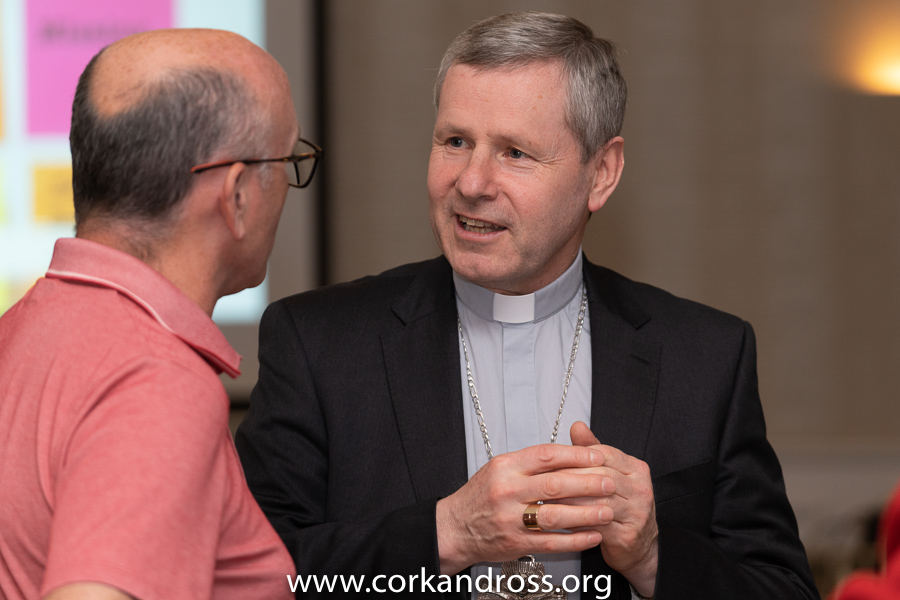 Bishop Fintan at a meeting of West Cork parishioners and clergy about planning for the future of parishes.
Congregations in churches across the Diocese of Cork and Ross are set to hear the same message this weekend in all churches.
Bishop Fintan Gavin, Bishop of Cork and Ross, published a pastoral letter earlier this month which outlines the context and vision for changes being made in parishes in the coming weeks.
Bishop Fintan has asked all the priests across the diocese to read a prepared summery of the pastoral letter at all Masses on the weekend of August 27th/28th.
The pastoral letter entitled Putting Out into Deep Waters introduces a new model for the relationship between parishes and a new emphasis on teams of priests, deacons and lay people ministering together in families of parishes.
The reading of the pastoral letter coincides with the changes of appointments which involve the majority of the priests of the diocese and most of the 67 parishes.
The families of parishes initiative means that twelve of the sixteen families of parishes are being formed next month while the remaining four will be formally established next year.
The diocese has also recently launched a recruitment drive to fill two key vacancies which will support the changes being made by parishioners and clergy.
A Parish Life Coordinator will work alongside the clergy as they transition to closer collaboration while a Faith Development Coordinator will oversee the delivery of programmes in parishes which will nourish people's faith.