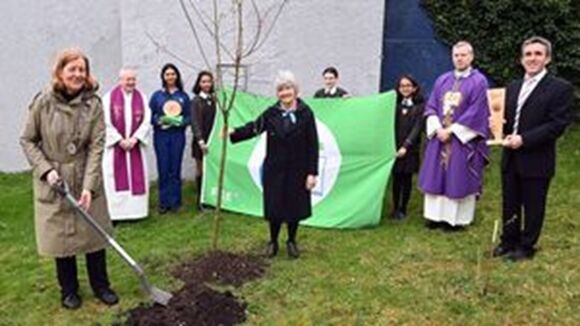 Deputy Lord Mayor Councillor Colette Finn planting a crab apple tree in the new wildflower garden in the grounds of the Church of the Descent of the Holy Spirit, Dennehy's Cross, Cork Present were Bishop Fintan Gavin; Fr. Donal Cotter, P.P.; Theresa Lynch, Faith in Action Group; Eamonn Moynihan, chairperson, parish Pastoral Council; student Angela Jaison, Mount Mercy College; Caroline Jaison, Sarah Moynihan and Ria Ashwin of St. Catherine's N.S.
After Mass, there was a tree-planting ceremony in the wildflower garden, followed by a social gathering where parishioners had plenty of opportunity to meet and chat with the Bishop and Deputy Lord Mayor.
Ballineaspaig Parish, Dennehy's Cross, was delighted to welcome Bishop Fintan to celebrate 11.00 Mass on Sunday, 12th March, and to make a presentation to the parish on behalf of EcoCongregation Ireland (ECI) of an Eco Gold Award
The Deputy Lord Mayor, Cllr Colette Finn, was in attendance.
The parish Faith in Action group applied to ECI for recognition as an eco parish in 2015 and became the first Catholic parish in the diocese to receive an Eco Award.
"This coincided with the publication of Laudato Si by Pope Francis, which gave us the stimulus to intensify our promotion of environmental awareness and responsibility for planet Earth, our commitment to social inclusion, and our connection with the developing world," the Faith in Action Group explained.
In 2021, they successfully applied to ECI for their newly-introduced Gold Award. see full application here
At that time, parishioners were promised a joyous celebration of this wonderful achievement as soon as the pandemic's waning would permit.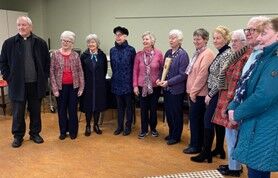 Faith in Action Group, Ballineaspaig Parish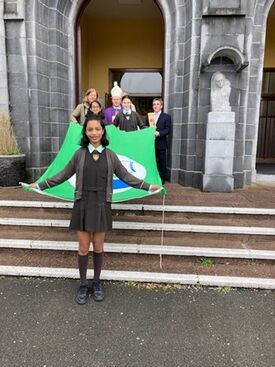 Caroline Jaison, Sarah Moynihan and Ria Ashwin of St. Catherine's N.S led the recessional procession ahead of Deputy Lord Mayor Councillor Colette Finn, Bishop Fintan and Eamonn Moynihan, chairperson, parish Pastoral Council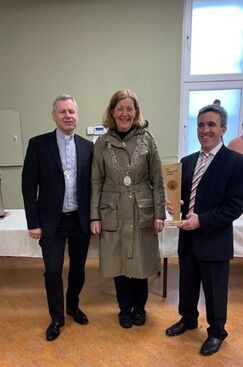 Bishop Fintan, Deputy Lord Mayor Cllr Colette Finn and Eamonn Moynihan, chairperson, parish Pastoral Council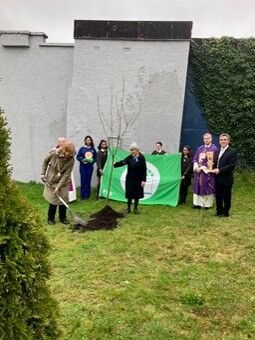 Planting the Tree